Elecnova Harmonic Filter Power Quality Mitigation Solution for Taiyuan Metro
2022 Jun.17
Background
Taiyuan Metro is an urban rail transit system serving Taiyuan City, Shanxi Province, China and various areas in the Taiyuan Metropolitan Area. Line 2, 23.65 kms was put into operation on December 26, 2020. There are 23 stops, all are underground. It makes Taiyuan the 39th city in Chinese Mainland, the 5th City in North China and the first city in Shanxi Province which has metro service.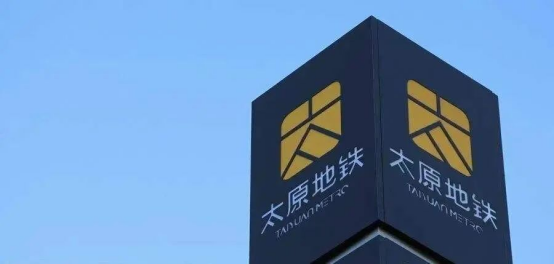 Harmonic Filter Solution
Taiyuan Metro Line 2 applies three capacities of active harmonic filter free stand cabinets (SFR-APF4-280/0.4, SFR-APF4-240/0.4, SFR-APF4-120/0.4). SFR-APF series active harmonic filter free stand cabinet is a new type of power electronic device for dynamic harmonic filtering, which can filtering harmonics (both in magnitude and frequency) in real time to overcome the shortcomings of harmonic suppression and reactive power compensation of conventional filters. It can realize the harmonic filtering function and reactive power compensation function of the system, and is widely used in electric power, metallurgy, petroleum, ports, chemical and industrial and mining enterprises.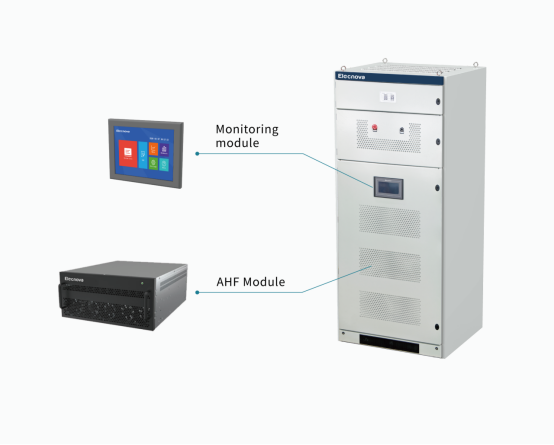 SFR-APF series active harmonic filter cabinet has independent intellectual property rights and has obtained national invention patent and pass the IEEE519 testing.
Model description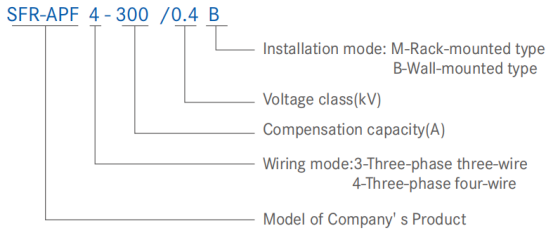 Technical features
More functions and modes
Harmonic filtering, power factor correct, harmonic and reactive power compensation together, one machine for multiple purposes;

Have harmonic sub-compensation function and can set the reactive power compensation ratio;

High-definition 7 (10) inch bilingual language touch screen HMI, providing real-time monitoring data.
Comprehensive protection function to improve user application stability
Advanced algorithm, when the load harmonic current is greater than the equipment output, can automatically control the output of the equipment at 100% output without overload risk;

Complete protection functions, including over current, over voltage, under voltage, over temperature and other protection functions, ensure the performance and liability;
Advanced control strategy and topology design
The improved detection technology based on the theory of instantaneous reactive power can detect the harmonic current in real time, automatically track the load harmonic changes, with high controllability and fast response;

Using a unique phase-splitting harmonic extraction algorithm, when the three-phase load is unbalanced, it can realize independent control of each phase, and when the capacity is sufficient, the unbalanced function can be selected;

Using LCL topology filtering, in the case of outputting harmonic current, it will not introduce high-frequency IGBT switching harmonic interference, and it is suitable for any on-site power grid system impedance without resonance;
Highly integrated, modular and serialized
Modular design, small volume, light weight, high power density, easy installation and maintenance;

The combined parallel machine can meet different capacity requirements, improve the reliability and maintainability of the equipment while realizing standardized production, and greatly facilitate the system installation and maintenance;

Single module independent air duct design can effectively isolate environmental dust adhesion and improve product heat dissipation efficiency.
Data sheet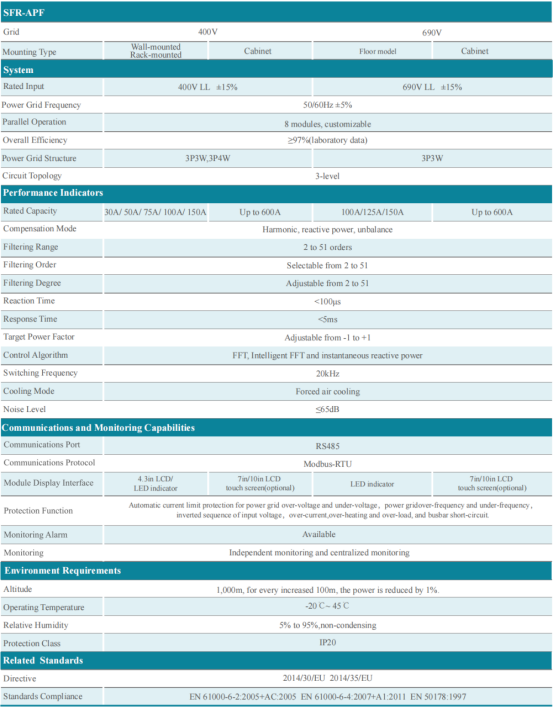 Model and Capacity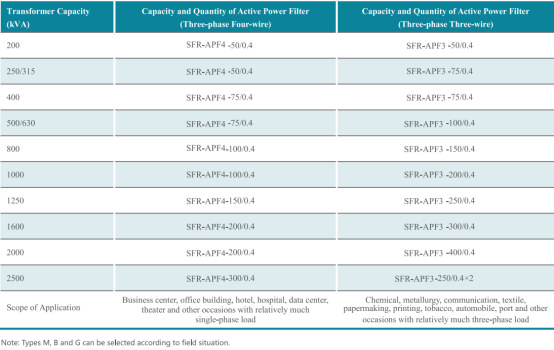 Customer value
The LV active harmonic filter in 0.4KV or below power grid harmonics during the subway operation period, ensures the operation safety of electromechanical equipment, and effectively prevents accelerated insulation aging caused by skin effect; Compensate the inductive reactive power during non operation period, reduce the design and installed capacity of high-voltage SVG, and reduce the online operation time of high-voltage SVG; Achieve energy conservation and emission reduction, reduce costs and increase efficiency for customers.
Are You Interested?