Application of Intelligent Dynamic Harmonic Suppression Reactive Power Compensation Module in Jiangsu Financial Building
2020 Nov.04
1. Background introduction
In recent years, with the rapid pace of urban modernization, smart buildings have gradually developed into smart building groups, smart blocks, smart cities, smart countries and even smart earth. Therefore, smart building has become a symbol of the economy and strength of a region, a city and a country. At the same time, people face the problem of the energy-saving of smart buildings. According to incomplete statistics, building energy consumption accounts for 1 / 3 of the total national energy consumption. In order to reduce building energy consumption and improve power efficiency, the use of reactive power compensation can effectively achieve the purpose of energy saving.
2. Existing problems
Switch mode power supply, computers, printers, copiers, elevators, energy-saving lamps, UPS, central air conditioners, LED display screen are widely used in smart buildings. Most of these devices have small capacity, but a large number of them have a great impact on power quality. Non-linear load is the main load in smart buildings, and its load characteristics mainly include the following aspects:
① There are many single-phase electrical equipment, and its power consumption generally accounts for about 50% of the total. Using single-phase power supply leads to unbalanced three-phase distribution load, excessive current in the neutral line, and the neutral point deviation;
② Due to the electrical equipment is non-linear equipment, the generated harmonic content is high and the power factor is low, which leads to the decline of the power quality of smart buildings.The research shows that smart buildings are an important source of harmonics;
③ Most of the electrical equipments have high requirements for power quality and are sensitive to harmonics.
3. Reactive power compensation design
According to the load type and transformer capacity of Jiangsu Financial Building, the design capacity configuration of reactive power compensation between incoming cabinet and load is as follows:

Product introduction:
SFR-M series intelligent dynamic harmonic suppression reactive power compensation module is a kind of integrated reactive power compensation product, which aims at the harmonic and power factor problems in the situation of serious harmonic pollution in 0.4kV low-voltage distribution network, so as to achieve power factor improvement, effective harmonic suppression, reduce line loss and improve power quality.
The intelligent dynamic harmonic suppression reactive power compensation module includes: DSP digital processing circuit, highly integrated detection, control, protection, display unit, zero-crossing switching module, discharge and air cooling unit, filter reactor, low voltage filter power capacitor and function module operation status indicating circuit. This series of modules is a new generation of dynamic filter compensation equipment for 0.4kV low-voltage distribution network. It is suitable for applications where the load changes frequently and the voltage qualification rate is extremely high. The total time of judging switching and switching actions is ≤20ms. It is a typical dynamic tracking compensation integrated module.
【Technical Parameters】
Module system diagram: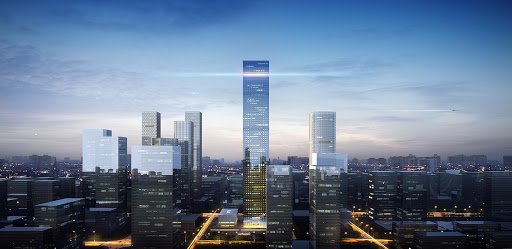 4. Project summary
SFR-M series intelligent dynamic harmonic suppression reactive power compensation module can realize the function of high-efficiency harmonic filtering. Considering the unbalance of three-phase load in smart building, the method of combining phase separation compensation with three-phase total compensation is adopted. At the same time, the compensation module is equipped with a series reactor. On the one hand, it limits the closing inrush current of the compensation branch, and on the other hand, it suppresses the harmonic. Through the function of total and separation combined compensation module, the harmonic and reactive power in smart building are comprehensively treated to optimize the power quality and finally achieve the purpose of energy saving.
Are You Interested?