Product Name: LNF53 Multi-functional Power Meter
LNF53 multifunction power meter can measure all electrical parameters like U/I/P/Q/S/F/PF, with interface RS485 and protocol Modbus-RTU.
The small and exquisite shape which easy for installation is very popular. It can be well integrated for cloudview power monitoring system to realize power data collection.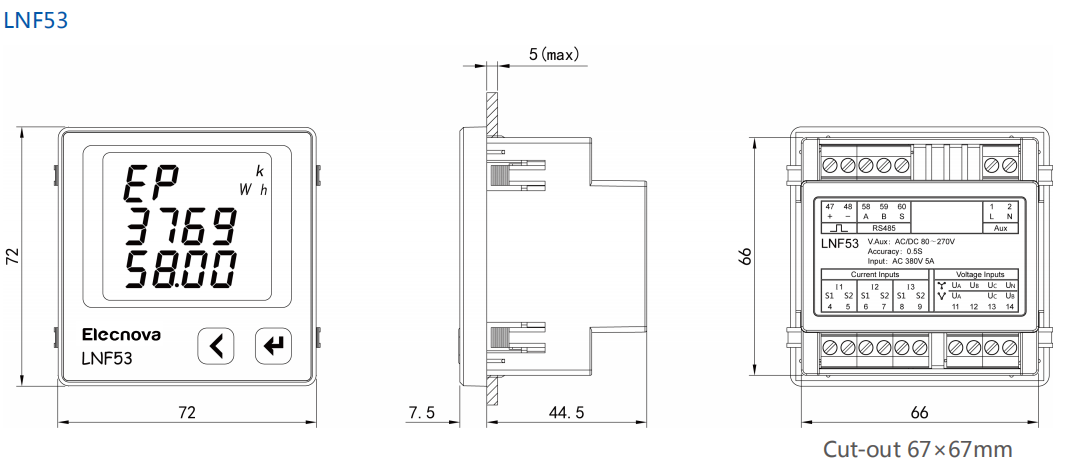 Networks




communication

accuracy

power quality

function



TN
Interface:RS485

Energy:0.5S

THD
TT
Protocol:Modbus-RTU
Vlotage:0.2%
Harmonics up to 15th
IT


Current:0.2%
Unbaalance






LNF53

LNF56

LNF66

Dimension(mm)


72x72x44.5
96x96x34
96x96x96

Real-time measurement

■

■

■

■

■

■

Energy metering

■

■

■

■

■

■

Power quality monitoring

Unbalance

■

■

■

THD
-
-

■

2nd~15th harmonic content
-
-

■

Input&Output
Energy pulse
1

1

2

RS485 communication interface

1
1
1
Digital input
-
-
□

Relay output
-
-

□